Alpine Link specializes in customized training programs that help individuals and organizations reach their peak potential in leadership development, sales performance improvement, operational excellence, and strategic planning. They include individual assessments as well as team assessments using a variety of robust tools and instruments depending on your needs. Workshops and programs are delivered using a combination of interactive approaches including online, discussion, breakout sessions, scenarios, role plays, lecture, games, project work, special assignments, and experiential adventure.
SCOPE of Leadership™ Workshops. Specific workshops that help leaders learn and apply specific SCOPE of Leadership™ competencies that great leaders possess such as coaching, delegating, imparting ownership, fostering collaboration, and stimulating engagement.
Leadership and Management Training. Leadership training that teaches executives the SCOPE of Leadership™ competencies of great leaders including a coaching approach to leadership that brings out the peak potential in their teams, organizations, and themselves.
Coaching Leaders to Lead as Coaches. A workshop for managers and coaches on how to coach, enable, encourage, and develop others. Through a combination of scenarios, role plays, lecture, and examples, participants learn how to enable and facilitate change in people's mindset and behavior. They learn the psychology of leading as a coach along with coaching essentials and best practices. They learn how to coach people in their professional development and bring out people's best.
Personality and Team Dynamics Workshop. A half-day workshop that reveals people's personalities and natural preferences. Participants complete an individual personality assessment and receive a comprehensive interpretive report. Through lecture, scenarios, and group discussion, participants learn how their personalities and those of others impact their performance and their team's dynamics.
Experiential Leadership and Team Development. A workshop for managers, leaders, and teams that incorporates outdoor adventure and experiential exercises. Participants learn how to lead, follow, and work as team through lecture and field application. They learn about themselves, their teammates, and how to take their performance to the next level. Experiential exercises include summer and winter activities in the Rocky Mountains of Colorado.
Delegating, Empowering, and Maintaining Accountability. In this workshop for managers with people responsibility, managers learn how to set expectations, impart ownership to their people, and hold them accountable for results. Managers learn the six levels of delegation and the extent to which they should guide, direct, coach, or empower their people. They learn how to assess performance and how to confront poor performance.
Building Teamwork and Collaboration. A workshop for teams to increase their collective trust, teamwork, and collaboration. Participants learn how to gain the trust of others and gain the synergy of working collaboratively rather than working as a group of individuals. They learn the best practices of working as a team, how to best help each other, how to constructively engage in conflict, and how to leverage each other's strengths. They learn the seven levels of collaboration and the five stages of team development.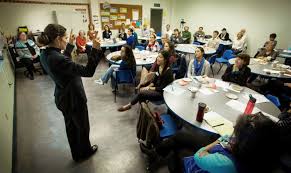 Alpine Link's most-requested training topics in a ready-to-deliver, one-day format. These workshops incorporate interactive discussion, breakout sessions, scenarios, and role plays to reinforce participants' learning. Workshop titles include:
Coaching Leaders to Lead as Coaches
Leveraging Teamwork & Collaboration
Shaping Culture
Fostering Innovation
Influencing Others & Implementing Change
Psychology of Leadership
Working Productively
Selling as Trusted Advisors
Enabling Speed & Quality
Business Planning for Results
Making Great Decisions